Hello, everyone!
I have both good news and bad news. The good news is that some very exciting things are brewing here in Handmade Network! The bad news, on the other hand, is that I haven't kept you up to date for awhile, so you will have a lot of reading to do.
Jokes aside, rest assured that I am both alive, and well aware that I am extremely late in writing this. As the saying goes, better late than never. :)
Let's jump into the news!
Handmade Network Podcast
Have you been missing listening to conversations and interviews between members of the community? I certainly have. That's why we've decided to start a recurring podcast that is focused on Handmade principles and having interesting and valuable conversations about computing.
The first episode will be coming out within a week or so, and we will continue to produce episodes on a regular basis. More details are to come, so stay tuned!
(Site Update) The Library
The
Handmade Network Discord
has a channel referred to as
#the-library
. This channel is filled with links, posted by community members, to both amazing and useful content for people looking to advance in their programming-related disciplines. Putting all of this in a Discord channel has a few benefits. Firstly, you can search it. Secondly, the history seems pretty reliable. Thirdly, it isn't categorized at all, organized alphabetically, or...
...oh, oops! That third one wasn't a benefit. That was actually referring to a problem that Handmade Network staff member Ben Visness has been working on solving with his work on the Handmade Network Library!
Now, hold your horses, since it isn't out yet. The feature is still coming soon, but there is enough progress on it that we'd like to show it off.
The Handmade Network library will be here, on the website, and will serve a similar purpose to the similarly-named Discord server (which will
not
be going away). It will host a set of links to useful resources for programming, including (but not limited to) books, papers, video series, and example code. These resources are organized both alphabetically and with a category-tagging system. Ben has been hard at work also ensuring that community members can have relevant discussions about the resources on the website, so that one can ask or answer questions, or provide extra insight to help enhance the resources.
These links are curated by dedicated community members. So far, there are over 60 resources, and much more to come! Most of these were originally curated and provided by community member
Spiney
, who has been a
massive
help with the effort to collect a first batch of these resources.
Existing projects on the website can host their own libraries as well. Project owners will be able to find the setting to enable use of a project library within their project settings.
Keep in mind that none of this is set in stone. We highly value your feedback and suggestions, so please reach out in a comment or
email
with your ideas.
(Site Update) Streams Page
In the last news post, I told you about the new Handmade Network
Streams
page, which provides an easy way to quickly see who within the community is streaming programming live on Twitch. Now, if you add a Twitch link to your profile, you'll be visible within the list of streams.
Handmade Seattle Recap Videos
As I mentioned in the last news post, Handmade Seattle happened in mid-November, and it was an amazing experience. It is always a wonderful time to meet up with folks from the community in person, and I am very much looking forward to next year! Official recordings of the talks have not yet been released, but community member Devon (
tek256
) posted a few clips that he recorded of both the conference and some conversations he had with project owners (including me!), as well as an overview video in which he tells about the conference from his perspective. These were a great watch, and I highly recommend checking them out. Here's the overview video to get you started:
Project Update: Nirion
A new project has joined us on Handmade Network:
Nirion
! Nirion is a 2D action and adventure game. Its creator,
Ben
, describes it as: "blending elements of twin stick shooter combat and metroidvania-like exploration. The player will explore a large interconnected world, collect upgrades, and defeat bosses."
The game has been written almost completely from scratch in C++ depending only the C runtime library and one of the
stb
single-header libraries.
This is already looking very impressive, and I am really looking forward to progress. I recommend you check out what
Nirion's project page
already has!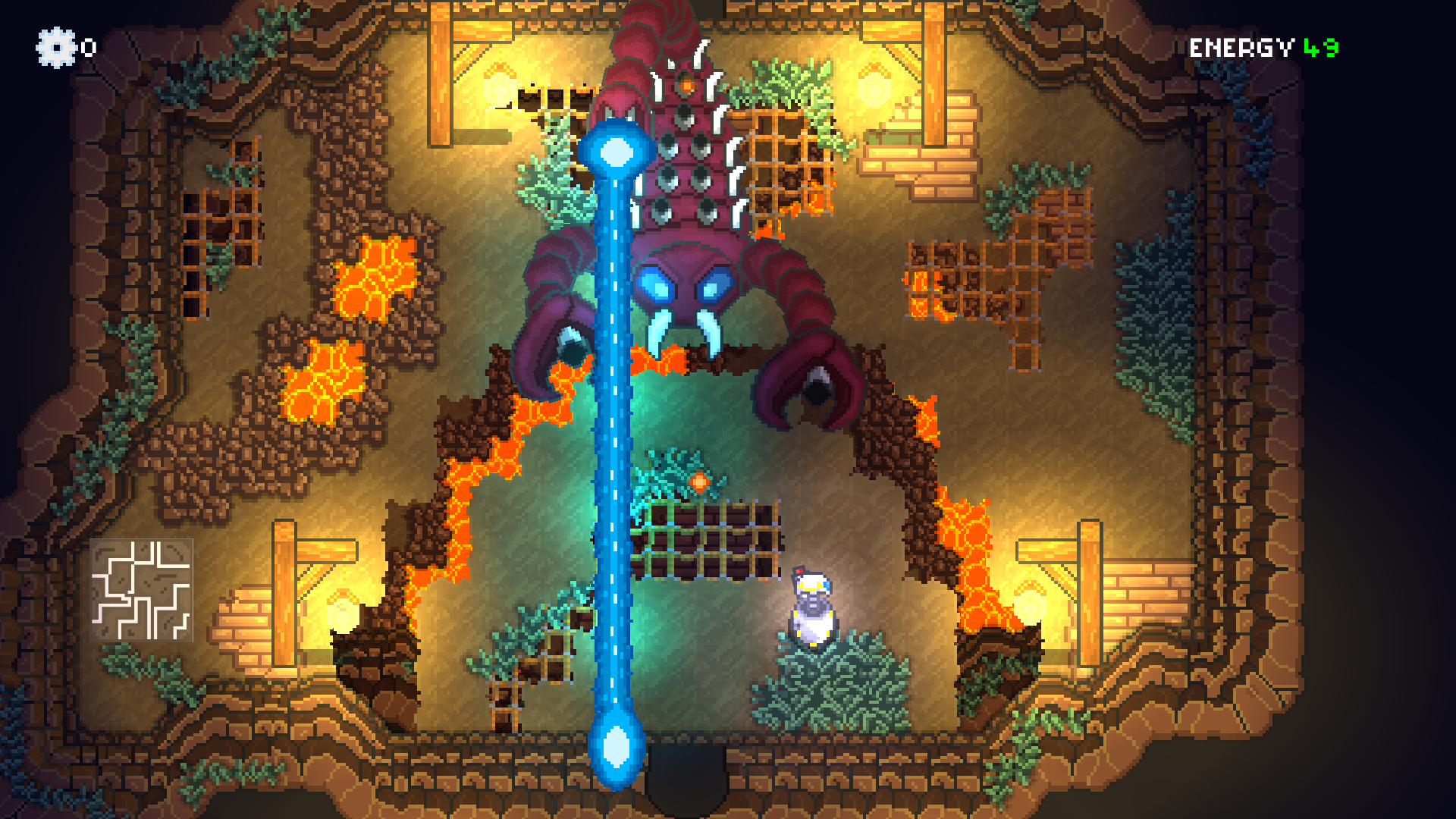 Project Update: 4coder 4.1 Beta Update
One of the most popular Handmade Network projects,
4coder
, a native-customizable code editor written from scratch by community member Allen Webster, recently released its first beta version (4.1). It added some great features, like the ability to do immediate-mode rendering from within a 4coder custom layer. Some community members used this to do work on some extremely useful customizations to aid in our programming productivity. Others, well...
Let's just say there was also a group of people making some maybe not-as-productive customizations (I am
not innocent
...), but awesome ones nonetheless. :) Don't worry, you don't have to be left out! You can also get 4coder 4.1 at
https://4coder.itch.io
.
Community Showcase
Alright, that is all I've got for you this ti...
...I'm just messing around, I couldn't possibly forget about community showcase posts! There have been so many amazing ones. Below are just a few... If you'd like to see them all, I highly recommend joining the
Handmade Network Discord server
and checking them all out for yourself!
Escher's Awesomely Confusing Geometry
Escher
is a project here on Handmade Network. It is a game about... Well, let me just explain it to you this way.
(I know right? What?)
rxi's Sequencer (Yes, Again)
On the Handmade Network Discord server, community member
rxi
is known as a jack-of-all-trades, or at least the trades of "writing awesome music sequencing software" and also "making awesome music with your own awesome music sequencing software". Check it out:
Princess Castle Quest Early Access Release
A project we've been keeping an eye on within the community is
Princess Castle Quest
, a Handmade game that recently went into early access. It is a charming grid-based puzzle game, and it looks like quite a bit of fun! Check out the early access trailer below:
Atari 2600 Emulator in Jiyu
You may remember a little while ago when
Jiyu
, a programming language being written by Joshua Huelsman, was introduced to Handmade Network. Josh recently shared that he has been working on an Atari 2600 emulator in it, and it is looking extremely impressive:
This picture is a still that I took from a video that
Josh posted on Twitter
.
Closing Remarks
Alright, that is all I've got for you... For real this time! You all keep amazing me with the work that you're doing; I am so excited to see what is coming next! Thanks for all that you are doing, thanks for reading, and take it easy!
Best,
Ryan